TEAMBUILDING EVENT DESIGN: CLIENT: EXPEDIA
Client Case Studies Corporate Video Promo Video Teambuilding Training
Here's a video about who we are and what we do:
Making a positive difference is our essence.
Engagement
Expedia Teambuilding

Media Production Project
Corporate Event Video
Client
Expedia
Location
Singapore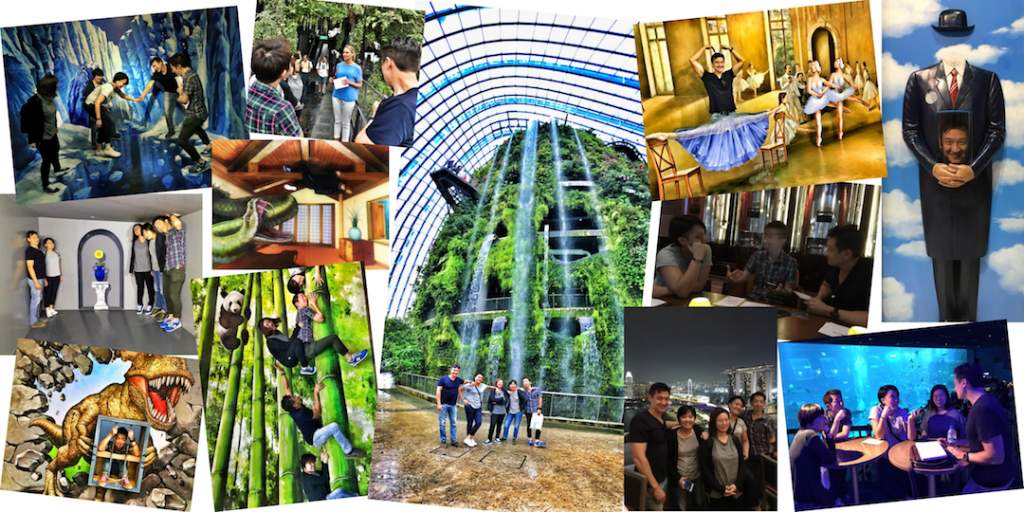 Tim Wade leads a real team-building event for client Expedia
Here was the brief: this particular team was meeting in Singapore to discuss business plans and their manager wanted them to do some teambuilding because they are a remote team. Not one member of the team worked in the same country as any other member of the team.
The manager, Chris, is based in Hong Kong. His manager is in London. His team are in places like Seoul, Tokyo, Sydney, Singapore. There are a lot of cultural differences across these locations, and different expectations that can create different challenges, frustrations and opportunities.
Chris wanted to bring the team together. We had half a day plus some evening R&R time to do that. Game on.
Now when we do #teambuilding we do REAL teambuilding. Not just a bunch of creative competitions and games that, while fun, rarely build teams and, importantly, relationships. The team building industry largely fails in this regard. We think differently, and we created something quite unique for Expedia.
Tim Wade would facilitate the event. He developed his Impromptu Conference idea into Impromptu Cards for Teambuilding and planned the itinerary for the team to go through. Expedia is a travel company. The team are from all over the region. The event would feature tourist highlights. Adam brilliantly designed the cards and would later video the entire event.



Wade's Impromptu cards
Impromptu Cards are topic-centred sets of instructions for leading a different element of the program. We had given each team member a card for a different session. That way, each person had the chance to lead the discussion, and prompt the conversation by asking the additional questions on the cards. The leader of that session would read out the context of the session and would pose the first question to the group. Additional and optional questions were also included, as well as a debrief question at the end so team members really integrated the purpose of that event.
Here's how the event ran:
Stop 1: SEA Aquarium. Impromptu Card topic: What's your story?
After visiting the displays we gathered around tables by the giant aquarium and discussed our first team topic. Specifically, what amazing stories exist in our team. Each person was invited to share an adventure that they had been on that really challenged them.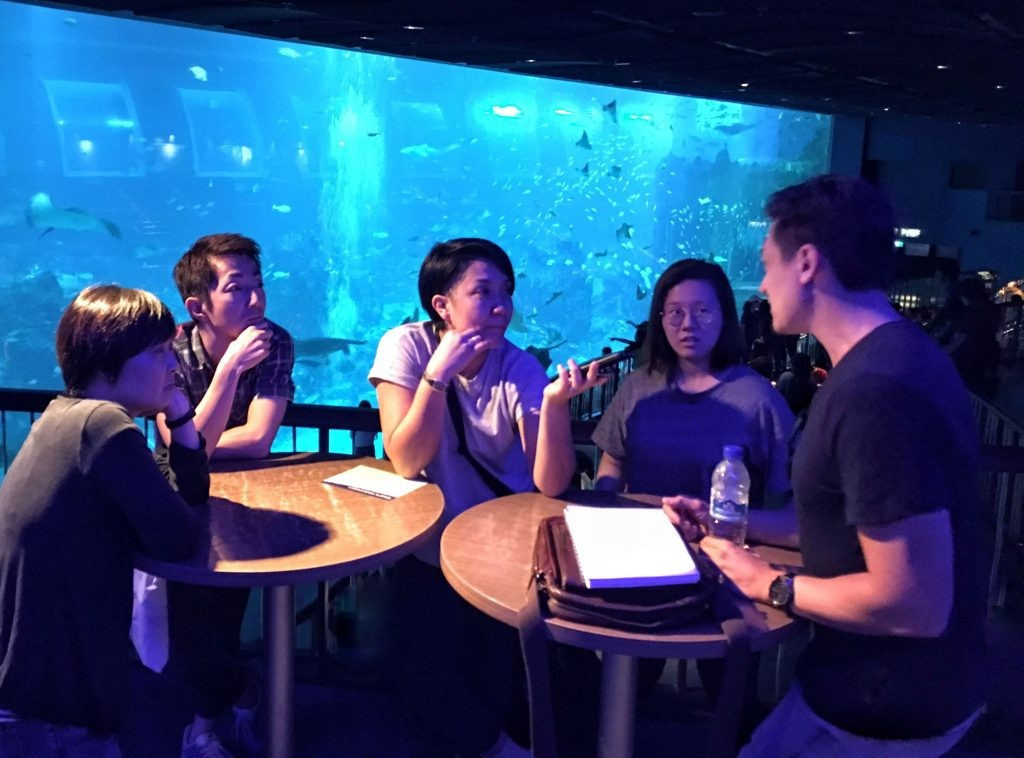 Negotiating a chasm at the Trick Eye museum – Tim Wade's teambuilding for Expedia
Before the team had even come to Singapore, Tim Wade had them all complete a battery of psychological profiling questions. Tim's university degree had a double major in Psychology. The questions ended up producing three personality profiles that covered communication preferences, how they choose to make decisions, what sort of detail they prefer in discussions, how they operate, how their personality aligns with their roles, as well as how they deal with conflict. All critical in how teams operate.

Tricky bamboo perspectives at the Trick Eye museum – Tim Wade's team-building for Expedia
Nearby the museum we gathered for drinks and a deeper discussion into the individual and team results of their answers. Then the Impromptu Card leader continued the conversation: knowing what we know about ourselves and each other, how can we best work together with the other personalities in this team? What can we do more of? What must we be aware of?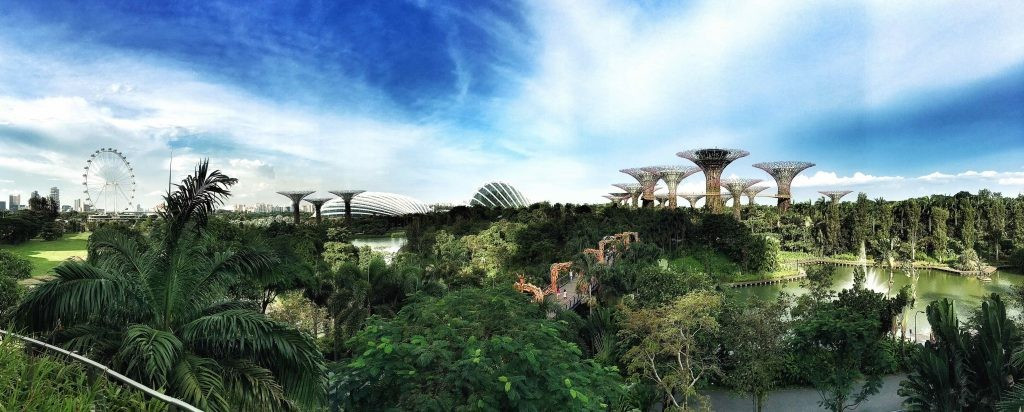 Gardens by the Bay
Stop 3: Cloud Forest at Gardens By The Bay. Impromptu topic: Cultural Intelligence.
For this session we dived into how the team can better improve their communication while appreciating the diversity of cultural backgrounds and experiences that can impact communication. This was really a question of cultural intelligence. So at the top of the mountain, out on a limb (on the suspended walking track), we conducted a briefing session on cultural intelligence based on mapping cultural sensitivities against regional and global norms to see how different cultures drive different expectations. And how one culture may inadvertently offend or frustrate another without even knowing it.

We brought in a Cross-cultural Communications Consultant, Edwina Fraser, to lead this session with the team, suspended 30 metres above ground, in an enormous climate controlled dome with a giant waterfall behind her. An amazing experience with a brilliant session by Edwina.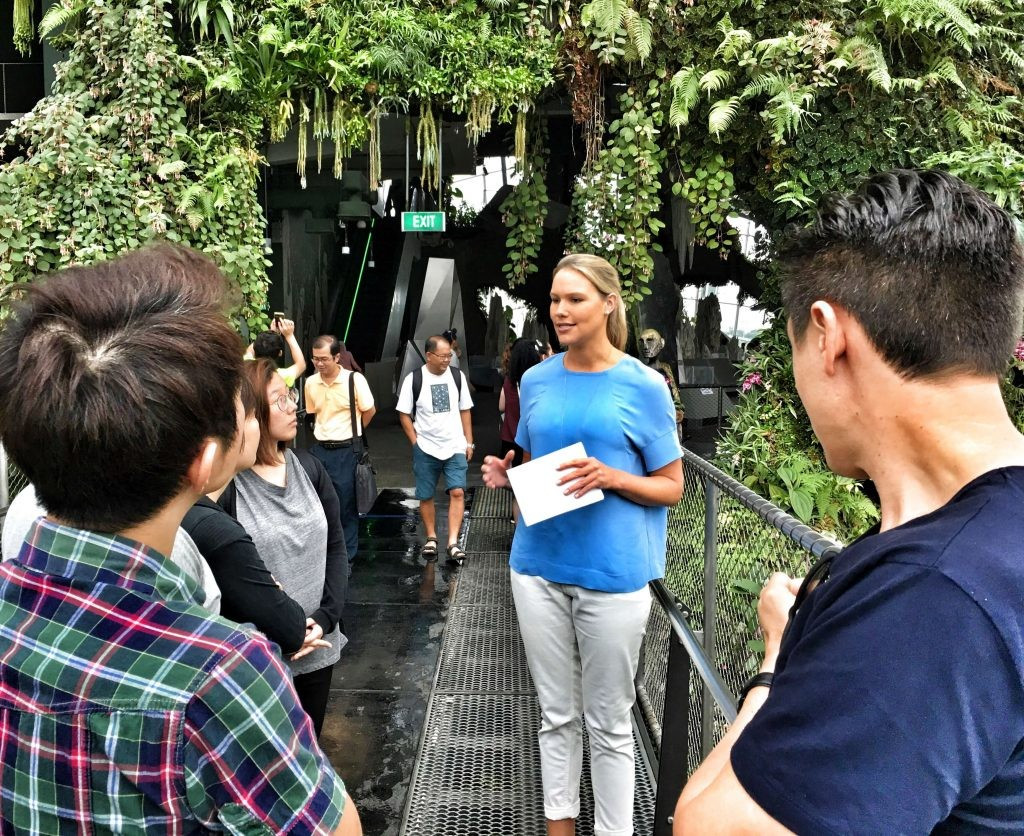 Edwina Fraser talks Cultural Intelligence during the teambuilding session for Expedia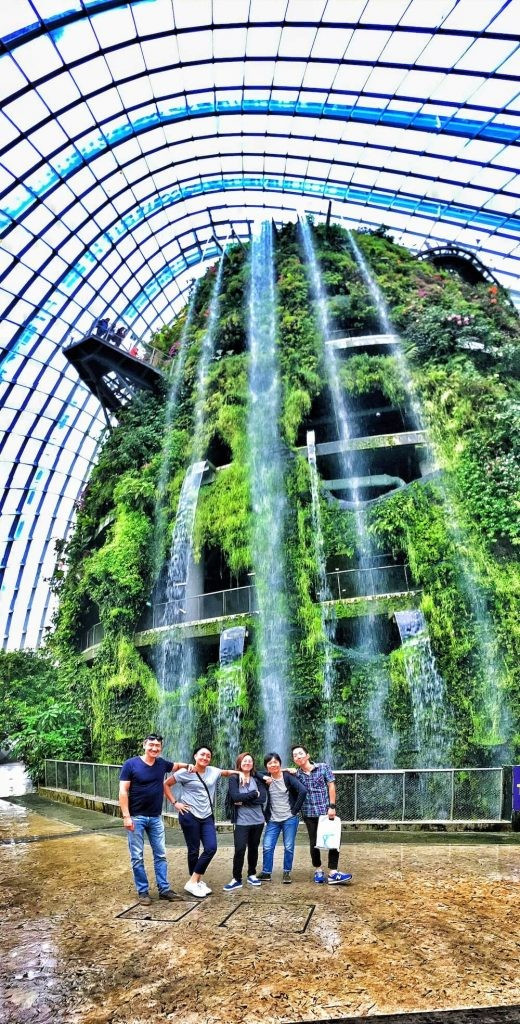 The sensational waterfall in Cloud Forest at Gardens by the Bay
The team then discussed how they could better use technology, form agreed standards, and understand timezone sensitivity to ensure they could work closely together, even when in remote offices thousands of kilometres apart. This included agreeing on a frequency of touching base, and how to use common information hubs, all while taking into consideration how different cultures have different unspoken expectations.

Stop 4: Level 33. Impromptu Card topic: Our next level up.
This session was about individuals agreeing to a way forward, and then coaching each other on action plans and implementation details through a Commitment Coaching session. The Impromptu Cards guided the coaching session, provided the coach a series of questions to ask their team mate that drove a sense of clarity and accountability, and then instructed the pair to hold each other accountable to their goals, further building the team and cementing relationships.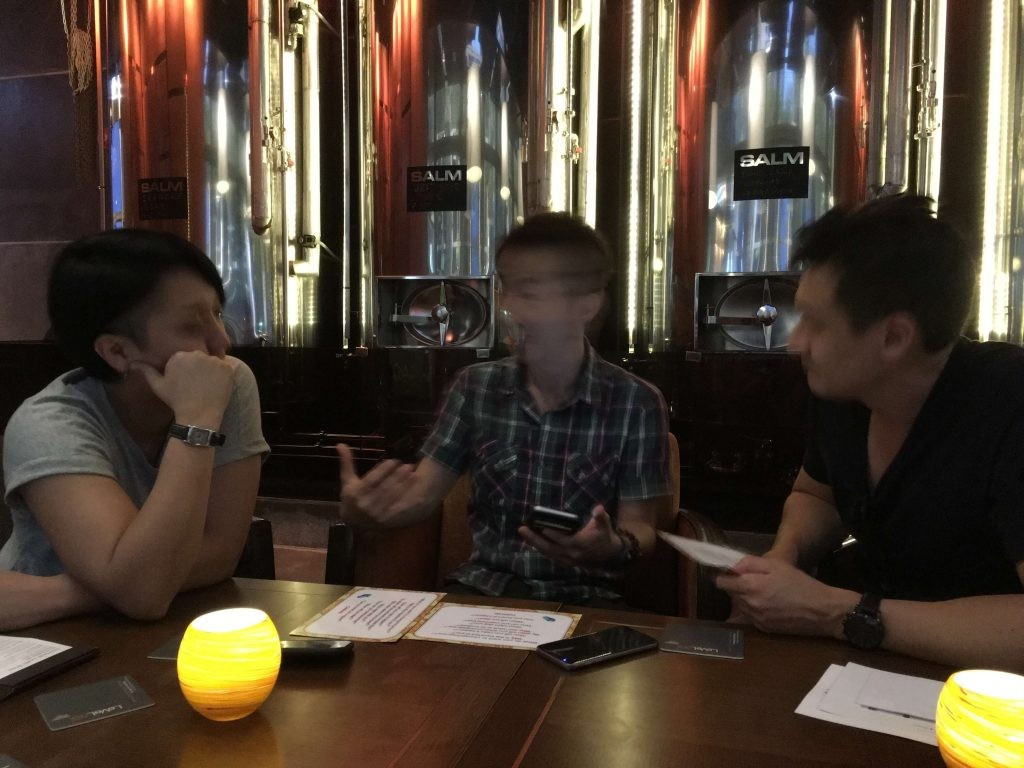 Commitment Coaching using Tim Wade's Impromptu Cards – inside Level 33 (microbrewery in the background)
We held this final session at Level 33, in the Marina Bay Financial District. It's a restaurant and micro-brewery which has an outdoor balcony that has what we think has the best view of Singapore's Marina Bay and the iconic Marina Bay Sands hotel. Plus it gave the team an opportunity to wind down and relax while going through the final session, and then bond over food and drinks in the night.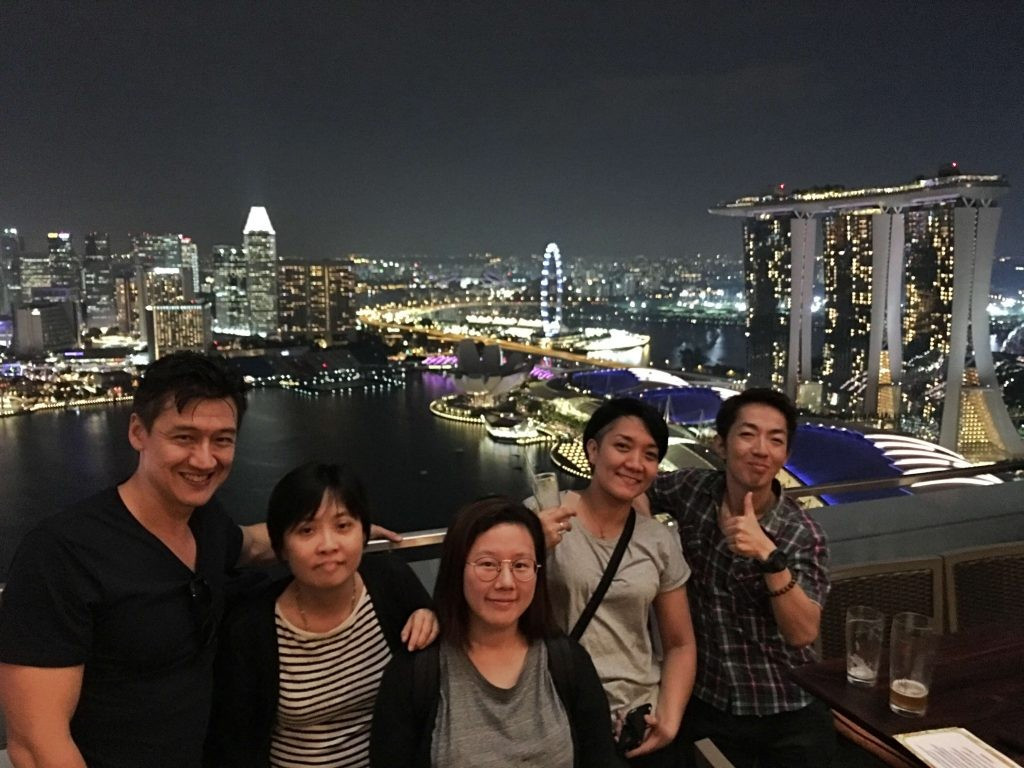 Expedia team members at Level 33 overlooking Marina Bay
That, in our opinion, is one of the best formats for real team-building that we have ever seen, and that's why we created it that way: to creatively deliver the solution to the challenge our client was facing.
Result: a tremendous success. Take a look at the video below…
Because of the use of Tim Wade's Impromptu Cards, and how the event was structure, it is possible to scale to larger sizes of teams going through this sort of teambuilding. Constraints to bear in mind will be location capacity. Had this been done with 150 people for example, we'd likely have started in the event conference room, briefed the team on the results of their personality profiles, and elements of cultural intelligence, but the group discussions would still happen in groups of 5-8 at all the various stops.

Teams could also go to different stops at different times (staggered arrivals), thereby breaking up the larger numbers into more manageable groups for the establishment. That's simply a matter of planning. Furthermore this can happen in most locations, not just in Singapore. With mapped out planning, and Tim Wade's Impromptu Cards meaning small groups can self-facilitate, yes we can!
Contact us for more. Simply click on the chat box in the bottom right hand corner of your screen.